" Get in touch with us on for any help or Query, We will be happy to help you "
Current Affairs 📰 Daily (CAD)
It is an initiative taken by the SSARP Study to ease burden from IAS Aspirants & save some time ⌚ to cover conventional section more, CAD is written by our expert team from various fields on daily basis for 10 topics, these topics are sorted by our AI design to judge the importance of topic depending upon the previous years paper question pattern & breakthrough of the news floated on various news websites 70:30 weightage.
CAD highly useful for IAS aspirants throughout the recruitment process of Preliminary Exam, Mains Exam & Interview while it is of utmost important for Preliminary exam.
---
Feni Bridge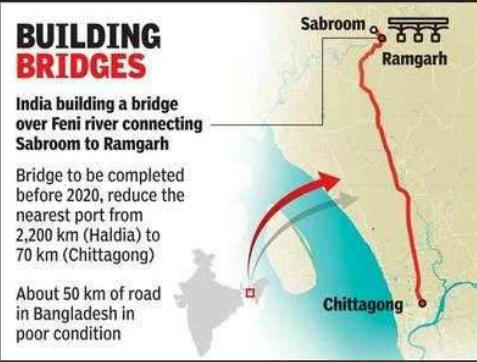 Do You Know ??
India's longest, 19.3 km long, Assam-Meghalaya river bridge being planned over the Brahmaputra river is likely to be completed by 2026-27 & it will replace the country's longest river bridge at present, which is 9.15 km long, lies between Dhola and Sadiya in Assam.
News 📰
Union Road Transport Minister Nitin Gadkari announced that the 1.8 kilometre long Feni bridge connecting Sabrum in India with Ramgarh in Bangladesh will be completed by December this year.
In Brief
Feni Bridge is known as Maitree Setu in Chattogram.
The bridge is being built over the Feni River and will connect Tripura with Chittagong port of Bangladesh.
The bridge is being constructed by the National Highways Infrastructure Development Corporation Ltd of Ministry of Road and Transport highways, Government of India.
Significance:
It is being developed as a corridor for trade and commerce between India's North-East and Bangladesh.
It will provide direct road connectivity between South Tripura and Chittagong allowing India to use Chittagong as a "port of call" and promoting trade, tourism and people-to-people ties.
The bridge will facilitate carrying of heavy machines and goods to and from the north-eastern states and the rest of India via Bangladesh through Chattogram.
---
IndiGenomes Resource Database
News 📰
Recently, the results from the computation analysis of the 1029 sequenced genomes from India were published in the scientific journal, Nucleic Acid Research.
In Brief
The analysis has found that out of 55,898,122 single nucleotide variants in India 18,016,257 (32.23%) variants are unique and found only in the samples sequenced from India.
Analysis was carried out by CSIR laboratories' namely –

Institute of Genomics and Integrative Biology (IGIB), Delhi
Centre for Cellular and Molecular Biology (CCMB), Hyderabad
About : IndiGen Program
The IndiGen Programme was launched in April 2019, under which genome sequencing of 1029 self-declared healthy Indians drawn from across the country has been completed.
Its objective was to enable genetic epidemiology and develop public health technologies applications using population genome data.
All obtained data are maintained under "IndiGenome Resource Database."
Significance –
It provides access to over 55 million genetic variants representing the contemporary Indian population with an objective to classify variants involved in mendelian disorders and improve precision medicine outcomes.
It enables the identification of markers for carrier screening, variations causing genetic diseases, prevention of adverse events and provides better diagnosis and optimal therapy through mining data.
This resource can provide useful insights for clinicians and researchers in comprehending genetics not only at the population level but at the individual level.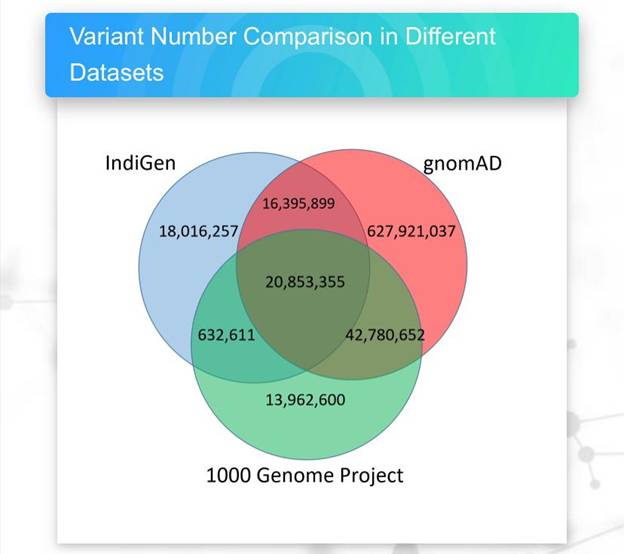 Do You Know ??
Mendelian disorder is a type of genetic disorder, resulting due to alterations in a gene or due to abnormalities in the genome.
---
Skill India Mission
Do You Know ??
Ministry of Skill Development and Entrepreneurship (MSDE) was formed on November 9, 2014 by the Government of India to focus on enhancing employability of skills.
News 📰
Ministry of Skill Development & Entrepreneurship (MSDE) in collaboration with their unified regulator— National Council for Vocational Education and Training (NCVET) unveiled guidelines for the Awarding Bodies (AB) and Assessment Agencies (AA) over a digital conference.
In Brief
The guidelines and operation manuals have been developed for the recognition and regulation of these two entities, key elements of skilling ecosystem.
The guidelines aim at establishing quality, improved outcomes and standardizing the processes under Skill India Mission. (Read more about Skill India Mission)
---
New Land Laws for UT of J&K
News 📰
The centre has notified new land laws for the Union Territory of Jammu and Kashmir.
In Brief
Under the new J&K Development Act, the Centre has omitted the term "permanent resident of the State".

This paves the way for investors outside J&K to invest in the Union Territory.
The Act enables the transfer of land in favour of a person or an institution for the purpose of promotion of healthcare or senior secondary or higher or specialised education in J&K.

The introduction of the UT of J&K Reorganisation (Adaptation of Central Laws) Third Order, 2020, by the Ministry of Home Affairs has resulted in the repeal of at least 11 land laws in J&K, including the J&K Big Landed Estates Abolition Act.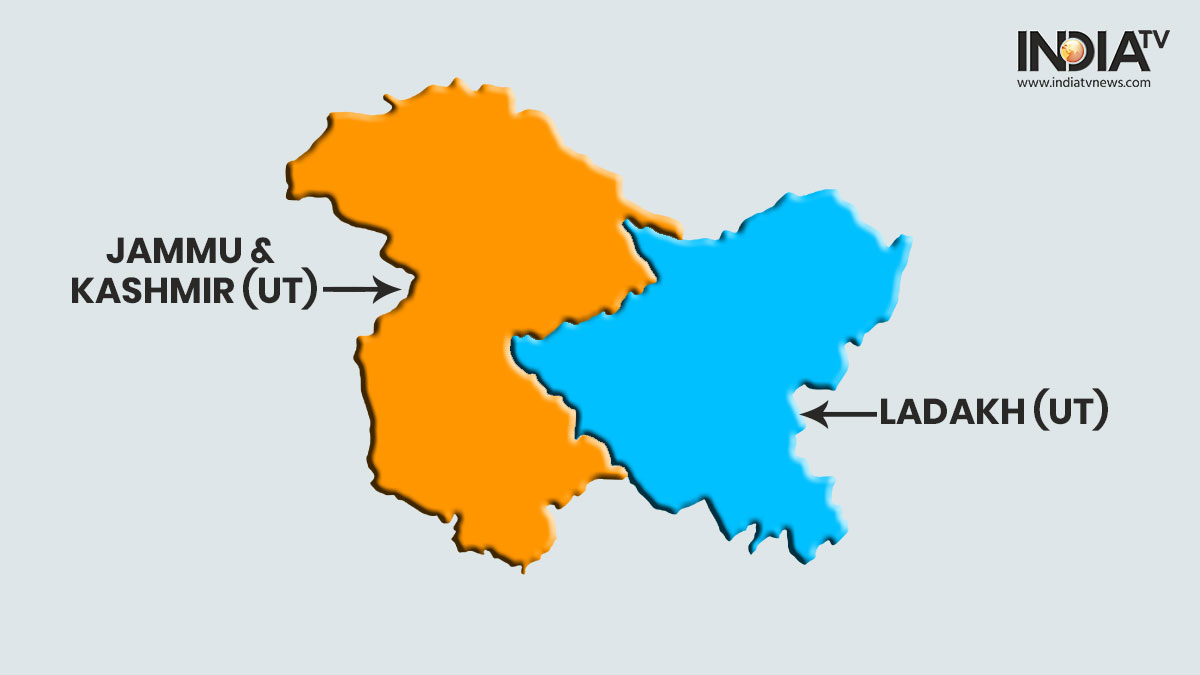 Do You Know ??
After the bifurcation of J&K, there is 28 states & 8 UT's & first time any state is downgraded form state to UT.
---
Progress under New UAPA Regime
Do You Know ??
2019 Amendment to UAPA make provision for designating individual as a terrorist.
News 📰
The Union Home Ministry has designated 18 individuals based in Pakistan as terrorists.
In Brief
UAPA is an anti-terror law that was passed by Parliament in 2019.
The amended act empowers the Home Ministry to designate individuals as terrorists. Earlier, 13 individuals were designated as terrorists.
---
Japan to achieve Zero Carbon Emission by 2050
News 📰
Japan's prime minister, Yoshihide Suga, has said the country will become carbon neutral by 2050, heralding a bolder approach to tackling the climate emergency by the world's third-biggest economy.
In Brief
Japan had come under pressure to strengthen its climate commitments after initially saying that it would achieve an 80% reduction in emissions by 2050 followed by carbon neutrality "as soon as possible" in the second half of the century.
The policy shift brings Japan into line with the European Union, which set itself a similar target last year, while China recently announced it would become carbon-free by 2060.
Japan's current energy plan, set in 2018, calls for 22-24% of its energy to come from renewables, 20-22% from nuclear power and 56% from fossil fuels.
Suga, who replaced Shinzo Abe in mid-September, did not provide details on how Japan would reduce carbon emissions to zero.
Do You Know ??
India pledges for 40% energy from renewable sources by 2030 to reduce carbon footprint.
---
Demand from industry to bring natural gas under GST
Do You Know ??
The Goods and Services Tax (GST) is a value-added tax levied on most goods and services sold for domestic consumption.
News 📰
Global energy majors have called on the Government of India to bring natural gas under the GST regime at the India energy Forum being held this week.
In Brief
Currently petrol, diesel, aviation turbine fuel, natural gas and crude oil fall outside India's Goods and Services Tax (GST) regime.
Government officials have also indicated that the government is considering bringing natural gas under the ambit of the GST regime.
Why is it important to bring natural gas under the GST regime?
It would lead to a reduction in the cascading impact of taxes on industries such as power and steel, which used natural gas as an input.
it would do away with the central excise duty and different value added taxes imposed by states.
This would lead to an increase in the adoption of natural gas in line with the government's stated goal to increase the share of natural gas in the country's energy basket from 6.3% to 15%.
---
Kerala Govt fixes base price for 16 vegetables
News 📰
In a first-of-its-kind initiative in India, the Kerala state government has announced the base price for 16 agricultural items, including vegetables, fruits, and tubers.
In Brief
The base price set for 16 agricultural items is 20% above its production cost. If the market price dipped below the base price of a vegetable, the produce would be procured at the base price and the money transferred to farmers' accounts.

The produce would be graded on quality, and subsequently, base prices would be fixed on that basis.
Provision has been made to revise the base price regularly.
The scheme is designed to protect farmers from adverse price fluctuations.

The farmers would have to register on the Agriculture Department's registration portal after insuring the crop to get the benefit of the base price.
The government expects to produce an additional one lakh tonnes of vegetables and tubers in a year.
The scheme envisages setting up of supply chain processes such as cold-storage facilities and refrigerated vehicles.
Do You Know ??
The MSP is fixed on the recommendations of the Commission for Agricultural Costs and Prices (CACP)
---
Vivad Se Vishwas
Do You Know ??
Article 246 of Indian constitution empowers the govt to levy tax.
News 📰
The government has extended the deadline for making payment under the 'Vivad se Vishwas' scheme for the third time by three months to March 31, 2021.
In Brief
It is direct tax dispute settlements scheme.
It offers a complete waiver on interest and penalty to the taxpayers who pay their pending taxes by March 31, 2021.
It is an amnesty scheme covering disputes pending at the level of commissioner (appeals), Income Tax Appellate Tribunals (ITAT), high courts, the Supreme Court and those in international arbitration.
The scheme aims to benefit those whose tax demands are locked in dispute in multiple forums.
---