India has reported an all-time record acreage of kharif (summer sown) crops this year despite the Covid-19 pandemic and flood situation in many states.
The area sown under Kharif crops (as of 28th August) has increased to a record 1,082 lakh hectare during the current season. The kharif acreage is expected to increase further as sowing of paddy was still continuing in a few states.

In comparison, the entirety of last year's Kharif season saw sowing in 1,069.5 lakh hectare, according to the Ministry of Agriculture and Farmers' Welfare.
The country's average sown area in the past five years has been 1,066 lakh hectares.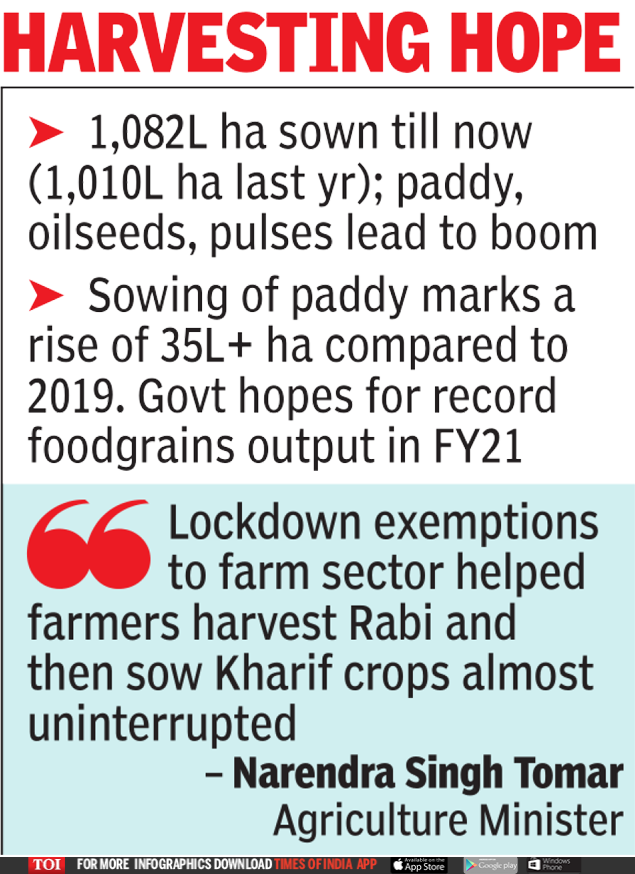 This year's kharif crop sown area was higher than the previous highest India reported in 2016 when the acreage was 1,075 lakh hectares.
A majority of states have sown larger areas during the current season. However, Punjab, Nagaland, Tripura and Jammu and Kashmir have sown over lesser land.
Sown areas of mainly paddy, oilseeds and pulses contributed to this increase.

The area under rice has reached 390 lakh ha, an increase of about 10% from last year.
Pulses have been sown over an area of 135 lakh ha, an increase of about 5% from last year.

The higher acreage can be attributed to a good monsoon rainfall and proactive measures, taken by farmers and governments during the lockdown period, to beat the impact of Covid-19 on agriculture.
Exemptions given to the farm sector during the lockdown period helped farmers continue with their operations – first harvesting Rabi crops and then sowing kharif crops – almost uninterrupted.
In fact, during Covid lockdowns across the country, FCI had launched a massive operation to complete procurement and make payments to farmers.
With this increase in acreage happening this year despite the Covid-19 pandemic and flood situation in many states, this could spell good news for the rural economy.
The development indicates that the farm sector, which remained largely free of lockdown curbs, may continue to register growth despite a shrinking GDP.
With an expected Kharif food grain production of 150 million tonnes, the government is expecting that the 2020-21 crop year would report an all-time record output of food grains and cross the target of 298 million tonnes.