In News:
PM Modi has arrived in Japan, a day before the G-20 summit begins in Osaka.
Ahead of sixth G-20 summit, PM Modi held wide-ranging talks with his Japanese counterpart, Shinzo Abe, on the global economy, fugitive economic offenders and disaster management.
Summary Of The Discussion
The ties between India and Japan have become stronger from the time the two countries cooperated to make a car to coming together to manufacture the bullet trains.
The bilateral ties between India and Japan are going to become more robust as India aims to become a USD 5 trillion economy in the next five years.
India and Japan also agreed to hold a 'two-plus-two' dialogue of their foreign and defence ministers
Note: In foreign policy parleys, 'Two plus Two' is the term used for the institutionalisation of a dialogue mechanism between two countries consisting of the key ministries of defence& external affairs.
The Prime minister also noted the contribution of Swami Vivekananda, Rabindranath Tagore, Mahatma Gandhi, Netaji Subhas Chandra Bose, Justice Radhabinod Pal and many other Indians in strengthening India's relationship with Japan.
The two leaders also discussed on the development of different Projects carried on with Japanese help in India i.e. India's first bullet train between Mumbai and Ahmadabad, Conventioncentre being built in Varanasi, Japanese infrastructural projects in the northeastern parts of India etc.
Modi has sought PM Abe's support for a global coalition for disaster resilient infrastructure providing Japan's experience with disaster management and post-disaster rehabilitation.
Japanese Investment in India
Japan is the third largest investor in India and to further attract investments from Japan, Invest India has been steering focussed investor outreach activities
The total FDI received from Japan since April 2000 is $ 29.5 bn.
Some of the key projects include:
High-Speed Rail:

Projected to be one of the most prestigious projects for India, the Mumbai – Ahmedabad High-Speed Rail (MAHSR) project (popularly known as the bullet train) is anticipated to transform the transportation sector of India.
The first stretch of the ambitious project is expected to be completed by 2022.
The National High Speed Rail Corporation Limited (NHRSCL) is in the process of acquiring land for the 508-kilometer project.
The project is expected to create 20,000 construction jobs, 4,000 direct employment for operations and 20,000 indirect jobs.
More than eighty per cent of the project cost is funded by Japan through a soft loan at 0.1% p.a. for a period of fifty years.
Delhi Mass Rapid Transport System:

Japan has provided technical and financial support for the construction of Delhi Metro of which 327 km of Metro line is presently operational in the Delhi NCR region.
54% of funding for the Delhi Metro project has come from Japan.
Western Dedicated Freight Corridor:

The proposed project is expected to develop an industrial hub covering 1504 km of freight corridor.
In the first phase, eight manufacturing cities will be developed with an estimated investment of about $ 100 bn.
Convection center in Varanasi:

A modern convention centre is being built in Varanasi with Japanese government's official lending arm JICA giving financial assistance of around Rs 130 crore.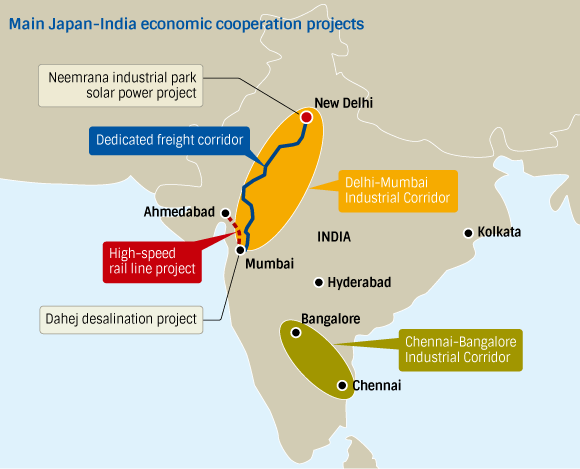 Infrastructural projects in North East of India: The Government of Japan has also decided to invest an amount Rs.13,000 Crore in several ongoing as well as new projects in different states of India's North- Eastern region.Some of the important projects in which Japan will collaborate include:

Guwahati Water Supply Project and Guwahati Sewage Project in Assam,
Northeast Road Network Connectivity Improvement Project spread over Assam and Meghalaya,
Northeast Network Connectivity Improvement Project in Meghalaya,
Bio-diversity Conservation and Forest Management Project in Sikkim,
Sustainable Forest Management Project in Tripura,
Technical Cooperation Project for Sustainable Agriculture & Irrigation in Mizoram,
Forest Management Project in Nagaland, etc.