UN MSME Day
The UN General Assembly in its 74th Plenary 2017 has declared 27th June as Micro, Small and Medium-sized Enterprises Day.
About- 
The move recognizes the importance of Micro, Small and Medium-sized Enterprises in achieving sustainable development goals and in promoting innovation, creativity and sustainable work for all.
According to the data provided by the International Council for Small Business (ICSB), formal and informal MSMEs make up over 90% of all firms and account on average for 60-70% of total employment and 50% of GDP.
PAYMENTS DATA
The Reserve Bank of India (RBI) has clarified that payment system providers need to store entire payments data in a system only in India.
About: 
Following clarifications sought by Payment System Operators (PSOs), RBI has released frequently asked questions (FAQ).
In this, RBI clarified that the entire payment data shall be stored in systems located only in India. 
In case the processing is done abroad, the data should be deleted from the systems abroad and brought back to India within one business day or 24 hours from the payment processing, whichever is earlier.
The data should include end-to-end transaction details and information pertaining to payment or settlement transaction that is gathered/transmitted/processed as part of a payment message/instruction.
The data could be pertaining to customer data like name, mobile number, Aadhaar number; Payment-sensitive data like beneficiary account details; payment credentials like OTP, PIN and, transaction data such as originating and destination system information amount.
WORLD DRUG REPORT 2019
The latest World Drug Report was released by the United Nations Office on Drugs and Crime (UNODC) on the occasion of International Day Against Drug Abuse and Illicit Trafficking (26 June).
Key highlights of report:
In 2017, an estimated 271 million people, or 5,5 % of the global population aged 15-64, had used drugs in the previous year.
The most widely used drug globally continues to be cannabis, with an estimated 188 million people having used the drug in 2017.
Globally, some 35 million people suffer from drug use disorders.
Prevention and treatment continue to fall short with only one in seven people with drug use disorders receiving treatment each year.
Most of the world's opioids are produced in Afghanistan (263,000 hectares of poppy seed production) with Myanmar (37,300 hectares) coming in as the second largest producer.
Do You Know? 
The Ministry of Social Justice and Empowerment conducted the National Survey on Extent and Pattern of Substance Use in 2018.
According to the survey, about 3.1 crore individuals use cannabis products and 2.26 crore people use opioids.
CYBER COORDINATION CENTRE (CyCord)
Minister of State for Home Affairs informed the Rajya Sabha about the Cyber Coordination Centre (CyCord) portal.
About: 
Cyber Coordination Centre (CyCord) portal was launched by Prime Minister of India in December, 2018 at DGPs/IGPs Conference.
Primary objective of the Cyber Coordination Centre is to provide a platform   to the  Law  Enforcement  Agencies and other stakeholders to collaborate and coordinate their efforts to resolve cyber crime, and for other cyber related issues like sharing case studies/research findings, experience sharing, formulation of research problems, finding solutions to complex cyber issues, etc.
UNSC NON-PERMANENT SEAT
India has won the unanimous support of all countries in the 55-member Asia-Pacific Group at the United Nations in support of its bid for a non-permanent seat at the UN Security Council (UNSC) for a two-year term in 2021-22.
About:
The development is particularly significant given that Pakistan and China, both countries with which India has had diplomatic challenges at the UN, supported the move.
The 55-member Asia-Pacific Group gets to nominate one of its members for the June 2020 elections to a non-permanent seat on the UNSC.
No challenges to India's candidacy are expected with regard to acquiring the support of other UN members. India will need the vote of two-thirds of the 193 UN General Assembly members to win a non-permanent seat on the UNSC.
India has already held a non-permanent seat on the UNSC for seven terms: 1950-1951, 1967-1968, 1972-1973, 1977-1978, 1984-1985, 1991-1992 and 2011-2012.
Background: 
Each year, the General Assembly elects five non-permanent members out of a total of 10, for a two-year term.
These 10 seats are distributed among the regions thus: 3 for African countries; 2 for Asia-Pacific countries; one for Eastern European countries; two for Latin American and Caribbean countries; two for Western European and other countries.
There is an informal understanding between Africa and Asia to reserve one for an Arab country.
INDIAN FOOTWEAR, LEATHER & ACCESSORIES DEVELOPMENT PROGRAMME (IFLADP)
The Minister of Commerce and Industry informed Lok Sabha about the Indian Footwear, Leather & Accessories Development Programme(IFLADP).
About- 
Type: IFLADP is a Central Sector Scheme.
Implementation period: It has been approved for implementation by the Central Government with an approved expenditure of Rs. 2600 crore over the three financial years from 2017-18 to 2019-20.
Sub-schemes under IFLADP are:

Human Resource Development (HRD) sub-scheme
Integrated Development of Leather Sector (IDLS) sub-scheme
Establishment of Institutional Facilities sub-scheme
Mega Leather, Footwear and Accessories Cluster (MLFAC) sub-scheme
Leather Technology, Innovation and Environmental Issues sub-scheme
Promotion of Indian Brands in Leather, Footwear and Accessories Sector sub-scheme
Additional Employment Incentive for Leather, Footwear and Accessories Sector sub-scheme
Note- Leather sector has been identified as one of the focus sectors under Make in India programme of the Government of India. 
POLAVARAM PROJECT
The Union Environment Ministry gave two years of extension to construction works related to Polavaram Multipurpose Project.
About:
Polavaram Project, is an under-construction multi-purpose irrigation project.
Features: The Project envisages construction of Earth-cum-Rock fill dam across river Godavari. The maximum height of the dam is 48 m.
Location: It is being constructed on the Godavari River in the West Godavari District and East Godavari District in Andhra Pradesh. Its reservoir spreads into parts of Chhattisgarh and Odisha States also.
Status: In the year 2014 the Government of India declared the Polavaram project a National project. The Polavaram Project Authority was constituted by the Union Cabinet in May 2014.
Significance for Andhra Pradesh: It will irrigate nearly 3 lakh ha of land, generate hydel power with installed capacity of 960 MW and provide drinking water facilities to 540 enroute villages covering 25 lakh populations.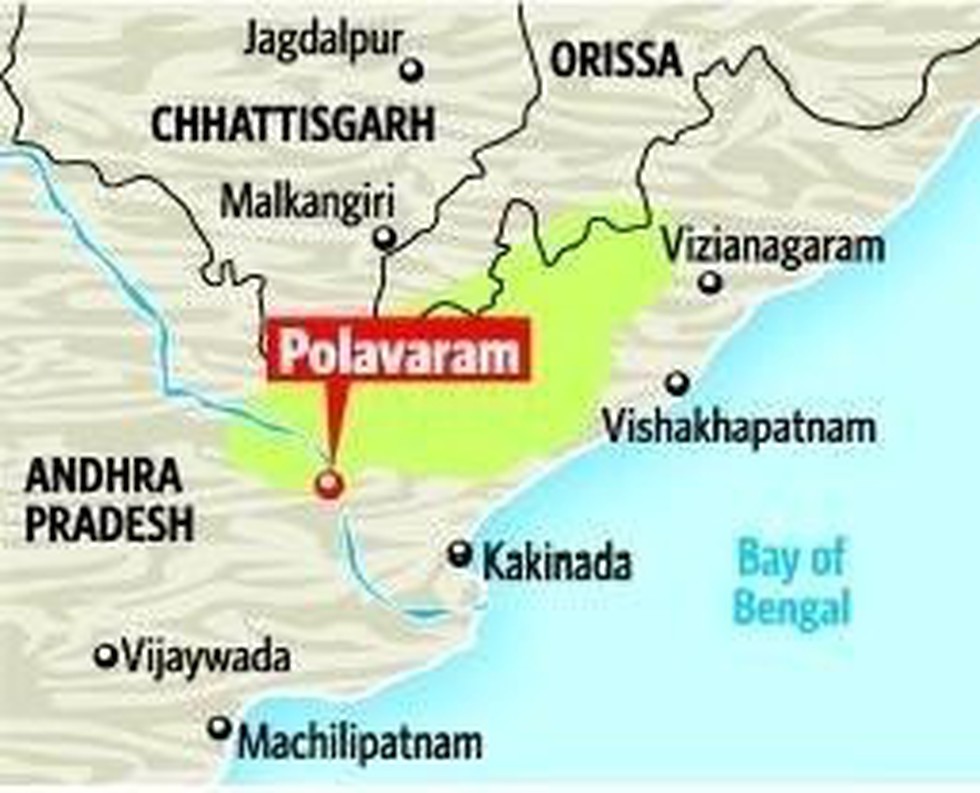 ---