The News
According to the "Food and Nutrition Security Analysis, India, 2019" report of World Food Programme about 1/3rd of children under 5 in India will stunted by 2022.
The article summarizes the report.
In focus: Food and Nutrition Security Analysis, India, 2019
Introduction
The Food and Nutrition Security Analysis, India report is published in collaboration by World Food Programme and Ministry of Statistics and Programme implementation.
The report is a progress report on India's performance on SDG 2.
SDG 2 aims to 'End hunger by achieving food security and improving nutrition and promoting sustainable agriculture'.
Framework
The food and nutritional security can broadly be assessed under 3 dimensions namely
Food availability
Sustainable access
Sustainable utilization
Status in India
Food Availability
Production
The total food grain production in India increased from 198 million tonnes to 269 million tonnes from 1996-99 to 2018 at an annual growth rate of 1.6 percent.
Wheat and rice constitute around 75 percent of the total food grain production
The growth rate of Pulses is 2.4, Wheat 1.8%, Rice 1.4%, Maize 5.9%, 0.9% Bajra
Availability
The per capita net availability of foodgrains has increased from 475 to 484 gm/capita/day from 1996 to 2018
Per capita availability of pulses has increased from 33 to 55 gm/capita/day.
Sustainable Access
Food Expenditure as a measure of access
Engels Law: As the income of a person increases the share of income spent on food decreases.
The total monthly expenditure for food determines the access to food and thus a relative measure of food insecurity.
The average monthly expenditure on food in India is extremely highly reflecting the lack of access to food.
While in Rural areas the average monthly expenditure is 49%, it urban areas it is 39%.
India's poorest 30% spend about 60% of their income on food.
Consumption Pattern: Access to energy sources
India is witnessing an increased diversity in consumption pattern.
The consumption pattern is shifting from cereal-dominated diet to increased importance of beverages, milk and milk products and fruits and nuts.
However, the shift is also because of increased consumption unhealthy energy and protein sources including oils and fat, fast food, processed food, and sugary beverages resulting in the problem of obesity in India.
While the fat intake has increased since 1983 the overall energy intake and protein intake has declined.
Food Utilization: A study on malnutrition
Indicators of child malnutrition are Stunting, Wasting and Underweight/Over weight
Stunting
Introduction

Children whose height is below the average for their age are considered to be stunted.
Stunting is an indicator of chronic malnutrition.

Status

India accounts for nearly 1/3rd of the world's 150.8 million with 46.6 million stunted children.
As per the National Family Health Survey (NFHS)-4 (2015-16), 38.4 per cent of children below five years are stunted.
Jharkhand, Meghalaya, Rajasthan and Gujarat were the states with highest incidence of stunting.
At this rate, nearly 1/3rd of Indian children under 5 will be stunted by 2022
Wasting
Introduction

Children whose weight is below the average for their height are considered wasted.
Wasting is an indicator of acute malnutrition.

Status

India also accounts for the largest number of wasted children in the world with low weight for height.
India recorded 25.5 million children who are wasted.
According to NFHS-4, percentage of wasted children under five years increased from 19.8 per cent in 2005-06 to 21 per cent in 2015-16.
Severely wasted children also rose from 6.4 per cent to 7.5 per cent during the same period.
Underweight/Overweight
Introduction

Children whose weight is below the average for their age are considered under-weight.
Under-weight is an indicator of acute or chronic malnutrition or both.

Status

As per the National Family Health Survey (NFHS)-4 (2015-16), 35.7 per cent children below five years are underweight.
India is among the few countries to have more than a million overweight children along with China, Indonesia, Egypt, US, Brazil and Pakistan.
Overweight and Obesity
Overweight is defined as those with a body mass index of 25 and above.
Obesity is defined as those with BMI of 30 and above.
Obesity is more common among women (15.1%) than men (11.1%).
Anemia
1/3rd of all women of reproductive age have anaemia are 32.8%.
Steps taken by India
National Nutrition Mission
National Nutrition Mission was launched in March 2018 with a budgetary support of Rs.9000 Cr over the next three years.
The International Bank of Reconstruction and Development of World Bank has contributed 50% of the budgetary support.
Objective
The Mission seeks to reduce the levels of stunting, under-nutrition, anemia and low-birth weight of babies.
Targets
Reduce mal-nutrition by 2% every year by reducing stunting, wasting and under-nutrition by 2% each every year.
Reduce incidence of anemia by 3% every year.
Mission 25 by 2022: Reduction in Stunting among children up to the age of six years from 38.4% (NFHS-4) to 25% by 2022.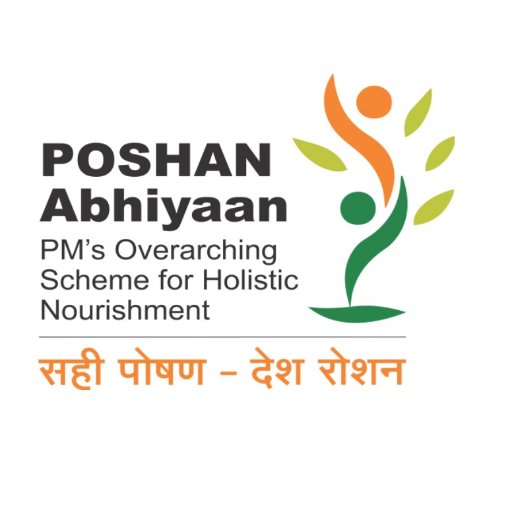 Way Forward
To improve food availability
Agricultural Diversification: to include micronutrient-rich grains such as millets, as well as other nutritious foods such as soyabeans, vegetables and fruits.
Climate-resilient agriculture: Innovative and lowcost farming technologies, increase in the irrigation coverage etc.
Improve Storage Capacity: to reduce post-harvest losses especially in perishables.
To improve access
Improve TPDS: Improving efficiency of all food safety nets including Targeted Public Distribution System
Fortification of crops: to improve nutritional outcomes including fortified rice which is a cost-effective way
Strengthen MNREGS: to provide higher wages to landless labourer households
To improve utilization
Improve Child Feeding Practices
Food Supplementation Programmes
Mother and Child Care
Improvement in Water, Sanitation and Hygiene Practices
In brief: World Food Programme
About
It is a member of United Nations Development Group working towards 'Zero Global Hunger' by 2030.
It is the world's largest humanitarian organization fighting global hunger.
It provides food assistance to more than 90 million people in 83 countries each year
It is funded by voluntary donations from governments, individuals and private organizations.
Objectives
Save lives and protect livelihoods in emergencies
Support food and nutrition security following emergencies
Reduce under-nutrition