Geet Ramayana
Union Minister of Ministry of Information and Broadcasting announced that Publications Division will bring out the Hindi adaptation of 'Geet Ramayana' by Shri Datta Prasad Jog.
About:
Geet Ramayana is a collection of 56 Marathi language songs chronologically describing events from the Indian Hindu epic, the Ramayana.
It was broadcast by All India Radio, Pune in 1955–1956.
Geet Ramayan was acclaimed for its lyrics, music and singing.
Written by G. D. Madgulkar and the songs composed by Sudhir Phadke, it is considered a "milestone of Marathi light music" and the "most popular" Marathi version of Ramayana.
COUNCIL OF EUROPE
Parliamentary Assembly of the Council of Europe has voted in favour of restoring Russia's voting rights, five years after they were revoked over its illegal annexation of the Crimean Peninsula.
About:
The move paves the way for Russia to participate in the election of a new secretary general for the pan-European rights body tomorrow.
Russia was stripped of its voting rights after Russia's annexation of Crimea in 2014. Russia responded by boycotting the assembly. Since 2017, the country also refused to pay its share of 33 million Euro to the human rights watchdog.
It had threatened to quit the body altogether if it is not allowed to take part in tomorrow's election.
Council of Europe?  
The Council of Europe is the continent's leading human rights organisation whose stated aim is to uphold human rights, democracy and the rule of law in Europe.
The organisation is distinct from the European Union (EU), although it is sometimes confused with it.
Headquarters: Strasbourg, France.
Founded in: 1949.
Members: It includes 47 member states, 28 of which are members of the European Union.
The best known body of the Council of Europe is the European Court of Human Rights, which enforces the European Convention on Human Rights.
NEW BANKING LICENSE
Finance ministry responded to a question asked Lok Sabha
About: 
Reserve Bank of India (RBI) has issued Guidelines for 'on tap' Licensing of Universal Banks in the Private Sector, dated August 1, 2016 for granting licenses for universal banks on a continuous basis.
RBI's Second Bi-Monthly Monetary Policy, 2019-20 dated June 6, 2019, has announced RBI's intention to issue Draft Guidelines for 'on tap' Licensing of Small Finance Banks by the end of August 2019.
Post 2014, RBI has licensed two New Private Sector Banks (in 2015), ten Small Finance Banks and seven Payments Banks (during 2016 and 2017). The two New Private Sector Banks are –

Bandhan Bank Ltd.
IDFC Bank Ltd.
goAML
The UAE has become the first country in the Gulf to launch goAML.
About: 
What is it? It is a new anti-money laundering platform.
Working: The goAML application is available to Financial Intelligence Units (FIUs) of Member States to support their work in countering money laundering and terrorist financing.
Developed by: The United Nations Office on Drugs and Crime to curb organised crimes.
Financial Intelligence Units (FIUs)? 
Worldwide, Financial Intelligence Units (FIUs) play a leading role in the prevention of anti-money laundering and counter-terrorist financing (AML/CTF) activities.
They are responsible for receiving, processing, and analyzing reports made by financial institutions or other entities in accordance with the requirements of domestic AML/CTF laws and regulations.
LUNAR EVACUATION SYSTEM ASSEMBLY (LESA)
Among preparations for NASA's 2024 Moon mission, scientists are testing a device called Lunar Evacuation System Assembly (LESA).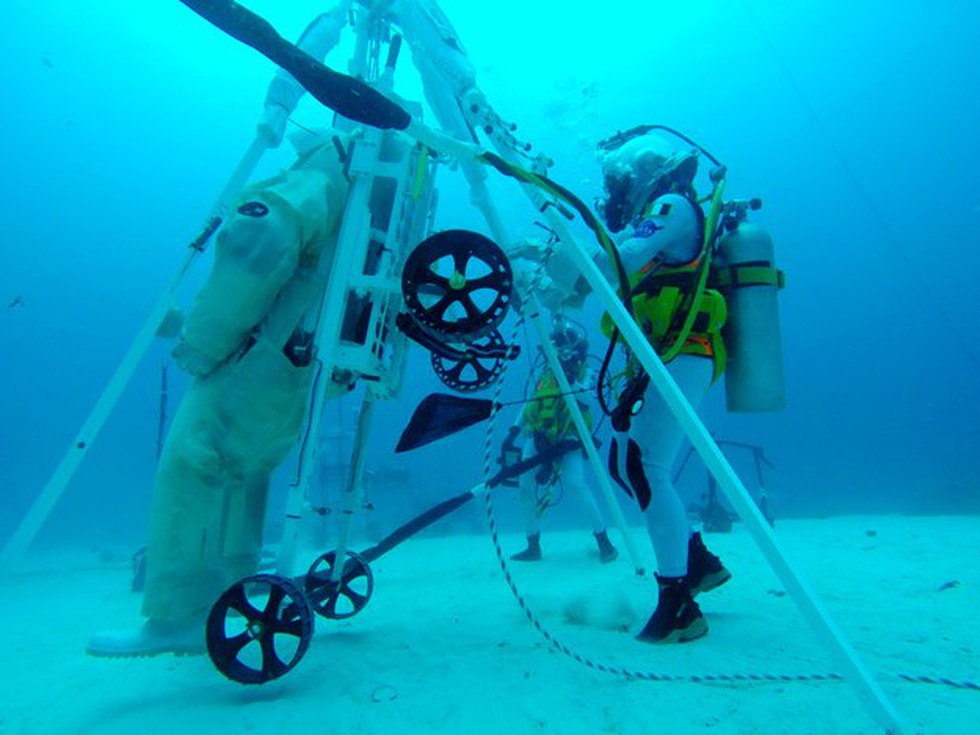 About: 
Developed by: The European Space Agency (ESA).
What is it? LESA is a pyramid-like structure whose purpose is to rescue an astronaut should he or she suffer an injury on the lunar surface.
Functioning: LESA can be operated by a single astronaut to rescue a fallen colleague. It enables an astronaut to lift their crewmate onto a mobile stretcher in less than 10 minutes, before carrying them to the safety of a nearby pressurised lander.
Present status: Astronauts are testing LESA under the sea. With its rocky, sandy terrain and buoyant salt water, the bottom of the ocean floor has much in common with the lunar surface.
ANTHROPOLOGICAL SURVEY OF INDIA
Union Minister for Culture & Tourism informed Lok Sabha about the research projects conducted by Anthropological Survey of India (ASI) during the last five years on the impact of Government programmes on Indian tribal communities.
These are: 
Bio-Cultural Diversity, Environment and Sustainable Development, (2012-2016; area/village covered:24)
Man and Environment, (2012-2016; Biosphere Reserve covered: 18)
Development and Sustainability, (2017-18; area/village covered: 17)
Community Health, Disease and Genetic Structure of Indian Population, (2015 onwards; Community covered: 52)
Anthropological Study of De-Notified, Nomadic and Semi Nomadic Communities (2018-19; Community covered:50).
Anthroological Survey of India (AnSI) ?
Anthropological Survey of India is a premier research institute for anthropological research in bio-cultural studies.
Established in: 1945
Headquarters: Kolkata.
Parent organisation: Union Ministry of Culture.
Deputy Governonr resigns
Viral Acharya Resined from his post, 6 month ahead of end of terms.
About:
Acharya, who was in charge of the monetary policy department, reportedly resigned due to "personal reasons". In October last, Mr. Acharya created a controversy by strongly alluding to the encroachment on autonomy of the central bank by the government.
His departure is significant as it comes just a little more than six months after the resignation of Urjit Patel from the post of RBI Governor.
The RBI now has three Deputy Governors left — N.S. Vishwanathan, B.P. Kanungo and M.K. Jain.
RBI Central Board of Directors? 
The Reserve Bank's affairs are governed by a central board of directors.
Appointment procedure: The board is appointed by the Government of India in keeping with the Reserve Bank of India Act.
Composition: It comprises Official Directors and Non-Official Directors.
Official Directors:

Full-time: Governor and not more than 'four Deputy Governors'.
The Governor and Deputy Governors hold office for not more than '5 years'.

Non-Official Directors:

Nominated by Government: ten Directors from various fields and two government Official. The ten directors hold office for '4 years', and the govt. officials hold office as long as the government sees fit.
Others: Four Directors – one each from four local boards.
Mortality at a glance
Targets under SDG -3
By 2030, reduce the global maternal mortality ratio to less than 70 per100,000 live birth
By 2030, end preventable deaths of newborns and children under 5 years ofage, with all countries aiming to reduce neonatal mortality to at least as lowas 12 per 1,000 live births and under-5 mortality to at least as low as 25 per1,000 live births
By 2030, reduce by one third premature mortality from non-communicablediseases through prevention and treatment and promote mental health andwell-being
Achieve universal health coverage, including financial risk protection,access to quality essential health-care services and access to safe, effective,quality and affordable essential medicines and vaccines for all
Do you know these basic terms –
Infant mortality rate (IMR) is the number of deaths per 1,000 live births of children under one year of age.
Neonatal mortality rate: is the number of deaths per 1,000 live births of children under 28 days of life.
Under-Five Mortality (U5MR) or child mortality is the number of deaths per1,000 live births of children under five year of age.
Maternal mortality rate: The number of registered maternal deaths due to birth- or pregnancy-related complications per 100,000 registered live births.
According to the just released SRS (Sample Registration System) bulletin, IMR of India has declined, from 37 per 1000 live births in 2015 to 33 per 1000 live births in 2017.
Reasons for high mortality rates: Which accounted for 62% of all child deaths
Pneumonia
Prematurity, low birth weight
Diarrhoeal diseases
Neonatal infections
Birth asphyxia & birth trauma
UNIVERSAL SMART CARD DRIVING LICENSE
Union Minister for Road Transport and Highways informed Rajya Sabha about the Universal Smart Card Driving License.
About: 
The Ministry of Road Transport and Highways in its order dated 1st March 2019 has decided to modify the format of driving licenses to laminated card without chip or smart card type driving licences.
The Ministry has prescribed a common standard format and design of the Driving Licence for whole of the country which includes the placement of information, standardization of fonts etc.
SARATHI:
This Ministry through its flagship application called SARATHI (for Driving License) developed by NIC (National Informatics Centre) have a common countrywide database of all driving license holders.
Almost 15 crore driving license records are available in its central repository (National Registry).
The SARATHI application has the feature to identify duplicate records online in real time and access information about the challans if any.
BANK NON-PERFORMING ASSET (NPA)
Union Minister of Finance informed Lok Sabha about the present state of Bank NPA in India.
About: 
Data on NPAs is regularly published by RBI as part of its Financial Stability Reports. NPA data is not collated by RBI in terms of corporate houses / companies.
As per RBI provisional data on global operations, as on 31.3.2019, the aggregate amount of gross NPAs of PSBs and Scheduled Commercial Banks (SCBs) were Rs. 8,06,412 crore and Rs. 9,49,279 crore respectively.
The primary reasons for spurt in stressed assets are aggressive lending practices, wilful default / loan frauds / corruption in some cases, and economic slowdown.
Steps taken to expedite and enable resolution of NPAs of PSBs, include the following:
Government has taken comprehensive steps under its 4R's strategy of

recognising NPAs transparently,
resolving and recovering value from stressed accounts,
recapitalising PSBs, and
reforms in banks and financial ecosystem to ensure a responsible and clean system.

The Insolvency and Bankruptcy Code, 2016 (IBC) has been enacted.
Securitisation and Reconstruction of Financial Assets and Enforcement of Security Interest Act has been amended to make it more effective.
Under the PSB Reforms Agenda, PSBs have created Stressed Asset Management Verticals.
Road Safety Advocacy
Transport Ministry responded to a Question asked in LS
About: 
Under this Scheme launched in the last FY 2017-18, proposals for road safety advocacy programmes through 203 different Non-Governmental Organisations(NGOs) / Trusts / Cooperative Societies have been sanctioned in FY 2017-18.
Financial assistance for a road safety programme is Rs. 5 lakh.
The scheme does not provide for any advance payment and financial assistance is reimbursement only after the successful completion of the programme.
There are adequate safeguard in the scheme to ensure proper utilization of funds, such as:-

No advance payment is released to any agency.
Registration of the NGO on Darpan Portal.
The scheme is administered through a Project Management Unit (PMU) for scrutiny of proposals
Passport Seva Project
About –
Passport Seva Project is a Mission Mode Project on Passports.
It aims at providing all the Passport-related services to the citizens in a speedy, convenient and transparent manner.
The entire process is online and streamlined including interface with the Indian police for verification of personal particulars of applicants and with India Post for tracking delivery of passports.
This e-Governance initiative is part of the National e-Governance Plan.
Methane  Spikes on Mars
NASA Curiosity's Sample Analysis at Mars (SAM) has detected the highest ever levels of methane in the course of its mission on Mars
What implication could be ?
The discovery could point to the existence of microbial life on the planet.
Methane, if it is there in the thin Martian air, is significant, because sunlight and chemical reactions would break up the molecules within a few centuries. Thus any methane detected now must have been released recently.
One leading theory is that the methane is being released from underground reservoirs created by ancient life forms.
Though Mars has no active volcanoes like on Earth, it is possible that methane is being released from geological processes, involving reactions of carbon from carbonate rocks or carbon dioxide, with hydrogen from liquid water.
There is a possibility that the methane could also be produced as a result of interactions between rocks and water.
---