In News
Malaysian Prime Minister Mahathir Mohamad recently said that Malaysia would be willing to conclude the Regional Comprehensive Economic Partnership (RCEP) without India for the time being.
Further, China has also been growing impatient with the slow progress on RCEP talks, and has proposed going ahead with just 13 countries — removing India, Australia and New Zealand from the deal.
Indian officials have stated that it would be "premature" to suggest that India could be cut out of the Regional Comprehensive Economic Partnership (RCEP), if it doesn't agree to join it by the year-end.
RCEP
RCEP is a proposed free trade agreement (FTA) between the ten member states of the Association of Southeast Asian Nations (ASEAN) (Brunei, Cambodia, Indonesia, Laos, Malaysia, Myanmar, the Philippines, Singapore, Thailand, Vietnam) and the six Asia-Pacific states with which ASEAN has existing free trade agreements (Australia, China, India, Japan, South Korea and New Zealand).
RCEP aims at lowering trade barriers and securing improved market access for businesses in the region through recognition to ASEAN+6 in the emerging regional economic architecture.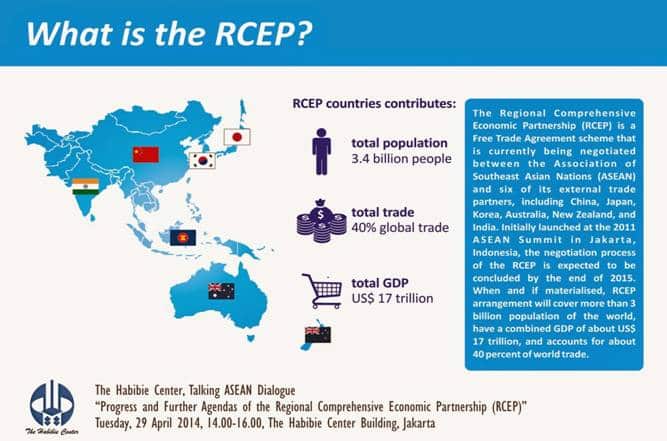 Importance of RCEP
It accounts for 25% of global GDP, 30% of global trade, 26% of foreign direct investment (FDI) flows and 45% of the total population.
RCEP's share of the global economy could account for half of the estimated $0.5 quadrillion global (GDP, PPP) by 2050.
India's exports to RCEP account for about 15% of its total exports and imports from RCEP comprise 35% of total imports.
The initiative is the largest FTA negotiation in Asia, and the biggest FTA negotiation that India has ever participated in. If negotiated successfully, it would create the world's largest trading bloc.
Background
RCEP negotiations were formally launched in November 2012 at the ASEAN Summit in Cambodia. Much has changed on the international trade scene since this 16-member grouping led by the ASEAN and China started bargaining to get past their differences.
The negotiations on crucial issues at the WTO have been slow and unable to keep up with the ebbs and flows of international trade and investment — shifting the focus to mega-trade deals.
The unique element about RCEP that it includes developed as well as the less developed countries has resulted in slower progress in talks due to a combination of technical hurdles, domestic politics, and rising protectionism in the Asia-Pacific region.
While the members are keen on quick conclusion of the deal, limiting their ambitions to a common schedule promising more tariff cuts, a hurried deal for safeguarding strategic insurance might be difficult to sell to domestic constituencies of the grouping's two largest democracies — India and Australia.
Merits for India
It will help India to tap the economic complementarities that get generated due to the interlinkages among various segments of trade. These inter-linkages are particularly important when India endeavours to integrate with a region, which has been the most successful region of the world in terms of thriving regional value chains (RVCs).
It will foster India to become a part of the Asian value and supply chain and will go a long way in making the Make in India programme a big success.
There are enormous export gains that could accrue to India from RCEP under varying scenarios. Per-unit foreign exchange realization from these products will be greater than per-unit foreign exchange expenditure on imports of similar products within intra-industry trade pattern.
Apart from making the Indian economy competitive in the long run, the RCEP can substantially increase investment in India from countries like Japan and South Korea.
India's demographic dividend is concomitant to the aging population in most RCEP countries. This gives India a great opportunity to export its skilled professionals to these economies.
India's apprehensions
Government think tank NITI Aayog and former chief economic adviser Arvind Subramanian have asked India to observe due restraint and to take into account geostrategic issues while moving ahead with the RCEP deal
China factor
China is India's biggest trading partner, accounting for almost 10% of overall trade. Sino-Indian bilateral trade increased from a mere $1.8 billion in FY2000 to $72 billion in FY2017.
India's trade deficit with China, at $52 billion, now accounts for almost half of its total trade deficit, rising from $0.6 billion in 2000-01.
With China, India's trade seems to be skewed and China's capacity overhang in most sectors may lead to a surge of imports into India with very limited access for Indian exports to the Chinese market.
At a time of growing protectionism and the US' stance towards China, opening the market to China can be prove to be disastrous, given that proper standards and processes are not in place in India.
Lack of reforms
Another point of contention lies with exposing vulnerable sectors to market forces and the vagaries of competition emerging from global trade.
Even after more than quarter of a century of economic reforms, Indian manufacturing are yet to mature to be competitive enough to face the vagaries of competition brought about by international trade. This situation prevails also because of a host of unimplemented reforms in the product and the factor of markets.
Despite low relative labour cost, labour productivity in India in manufacturing is still one of the lowest in the world, and spatially fragmented labour laws escalate costs of transaction. Under such circumstances, the Indian industry is hardly in a position to compete in a level playing ground in a free-trade region.
Past Experience
The literature on international trade claims that for small economies preferential trade agreements (PTA) are not really the best moves. India, despite its huge population and increasing income leveles, is a price-taker, rather than "price-maker" in the global trade.
When a country preferentially reduces trade barriers with its partners in a PTA, it is raising the relative trade barrier against countries that are not members of the agreement.
The Indian resistance can further be traced to the disappointing outcomes of earlier FTAs with Singapore, Malaysia, Japan and Korea.
These FTAs were motivated by India's geo-strategic ambitions in the Asia-Pacific, complemented by the expectations of several Southeast Asian countries for India to play a balancing role in the region vis-a-vis China.
However, Indian industry accuses these FTAs of largely increasing imports into India from regional markets. India runs a trade deficit with 10 of the 16 RCEP countries at a whopping $104 billion — 64 per cent of India's total trade deficit in 2017-18. This deficit has reportedly been growing in the past few years.
On the other hand, the RCEP in the long run goes far beyond trade liberalisation. In its attempt to harmonise foreign investment rules, intellectual property rights (IPR) laws and several other laws and standards beyond what has been agreed by developing countries at the WTO, it takes away an economy's ability to customise trade policies according to the needs of specific time periods. This will be another long-term cost that the Indian economy will have to bear.
India's demands
India's share in global service exports stands at 3.4 per cent in 2016, which is double that of its share in global merchandise exports at 1.65 per cent.
India, in particular, has been unwilling to yield ground on tariffs and greater market access sought by other members till it is granted equally meaningful reciprocal access elsewhere. This is where India's demand for greater mobility for its service professionals assumes significance.
India's contention is significant considering that services exports — driven by IT and transportation — are not only a greater component of the Indian economy as compared to the manufacturing sector, but are critical for propelling the manufacturing sector too.
Some of India's FTAs with the region, such as the services agreement with ASEAN and the bilateral FTAs with Singapore and Malaysia, have provisions for movement of professionals. But these have not produced the mobility that India expected. Most member-countries remain circumspect on India's demand.
Way Ahead
By not joining the group India will not only be giving up the first mover's advantage, it would also give up the chance to frame the grouping's rules and investment standards if it fails to join RCEP
As India's exports have been falling for more than two years now. India, thus, needs to have a clear strategy with respect to its free-trade agreements which would benefit its external sector.
In an interconnected world, it is impractical to take an isolationist approach and spurn multilateral and regional trade pacts without risking trade diversion and loss of competitiveness in exports. An RCEP without India will still go ahead, but not without locking India out from Asia and spelling disaster for the economy expecting to grow at 8 per cent per annum.
There are more compelling trade and economic reasons for RCEP to become India-led in future, than otherwise. Hence, India must play its due role to get its due place in the regional economic configurations.