INDRAYANI RIVER
The Maharashtra Pollution Control Board has sought an explanation from the Dehu gram panchayat for around 4,000 dead fish, mostly mahseer, were found floating in the Indrayani river last week. The cause of this incident was the release of untreated sewage in the river.
About:
Course: The Indrayani river originates in Kurvande village near Lonavla in Maharashtra. It flows east from there to meet the Bhima river, through the Hindu pilgrimage centers of Dehu and Alandi.
This river happens to be one of the tributaries of the Bhima River, which again happens to be a tributary of Krishna River.
Spiritual significance: It is revered as a holy river and is associated with such great religious figures such as Sant Tukaram and Dnyaneshwar.
Valvan Dam: There is a hydroelectric dam called Valvan Dam on the Indrayani at Kamshet.
SIMULTANEOUS ELECTIONS
Law commission in its 170th report remarked that the holding of a separate election to a Legislative Assembly should be an exception and not the rule. The rule ought to be one election once in five years for Lok Sabha and all the Legislative Assemblies.
Relevant constitutional provisions?
Term of House of People and State Legislative Assemblies:

Article 83(2): Article 83(2) of the Constitution provides for a normal term of five years for the House of People (Lok Sabha).
Article 172(1): Article 172 (1) provides for similar tenure for State Legislative Assembly from the date of its first sitting.

Pre-mature dissolution of Lok Sabha or State Assemblies: Both Lok Sabha and State Assemblies do not have a fixed term and can be dissolved earlier than their normal terms –

Article 85(2)(b): Article 85 (2)(b) of the Constitution of India provides the President with the power to dissolve Lok Sabha.
Article 174(2)(b): Similar provision for dissolution of State Legislative Assemblies by the Governor of State is provided under Article 174(2)(b).
Article 356: In the event of a State being under President's Rule as provided under Article 356, the Legislative Assembly of the said State may be prematurely dissolved by the President.
NEW G-20 FRAMEWORK ON MARINE PLASTIC WASTE
During the two-day ministerial meeting in Karuizawa, Japan, Group of 20 Environment Ministers agreed to adopt a new implementation framework for actions to tackle the issue of marine plastic waste on a global scale.
About: 
Background: This comes in the aftermath of images of plastic debris-strewn beaches and dead animals with stomachs full of plastic sparking outrage with many countries banning plastic bags outright.
Earlier initiatives: The new framework is aimed at facilitating further concrete action on marine waste, though on a voluntary basis, after the G20 Hamburg Summit in Germany adopted the "G20 action plan on marine litter" in 2017.
Life-cycle approach: Under the new framework, G20 members will promote a comprehensive life-cycle approach to prevent and reduce plastic litter discharge to the oceans through various measures and international cooperation. They will also share best practices, promote innovation and boost scientific monitoring and analytical methodologies.
Way ahead: Japan plans to host the first meeting under the new framework this autumn when officials of environment ministers in the G20 countries are due to meet for the G20 Resource Efficiency Dialogue.
BLACK SOFTSHELL TURTLE
The Ugratara Temple, in Guwahati, Assam, organised a special darshan of 34 hatchlings of the rare black softshell turtle as these hatchlings will be reintroduced into the wild.
About: 
Scientific Name: Nilssonia nigricans.
Common name: The black softshell turtle or Bostami turtle Or Mazari.
What is it? It is a species of freshwater turtle.
Softshell: These turtles are called "softshell" because their shell is light and flexible. This allows them to move more easily in open water, or in muddy lake bottoms. Having a soft shell also allows them to move much faster on land than most turtles.
IUCN conservation status: Extinct in the wild.
Distribution: It is found only in the ponds of some temples in Assam and Bangladesh (Chittagong and Sylhet
Pro-tem Speaker
Seven time Lok Sabha MP from Tikamgarh in Madhya Pradesh Virendra Kumar today took oath as Pro-tem Speaker of the Lok Sabha. President Ram Nath Kovind administered oath to Dr Kumar at Rashtrapati Bhavan.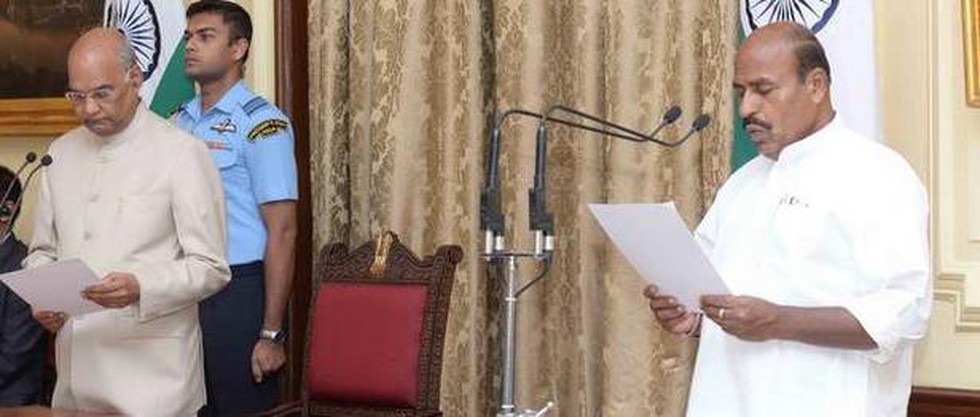 About:
Who is appointed? By tradition the most senior most Member of Lok Sabha (i.e. having the most experience) is appointed as Pro-tem Speaker.
Who appoints him/her? The President himself/herself administers the oath to him/her.
Powers and Functions: He/she has all the powers of the speaker, but the main duties are:

Presiding over the first sitting of the newly constituted Lok Sabha,
Presiding over the election of new Lok Sabha speaker and
Administering the oath of newly elected members.

Duration of his/her term: When the new speaker is elected by the house, the office of the speaker pro tem ceases to exist. Hence, this office is temporary office, existing for a few days.
Constitutional Provisions:

Article 94(2): Office of the Speaker becomes vacant immediately before the first meeting of the new Lok Sabha.
Article 95(1): While the office of Speaker and deputy speaker is vacant, the duties of the office shall be performed by such member of the House of the People as the President may appoint for the purpose.
WORLD DAY TO COMBAT DESERTIFICATION AND DROUGHT
World Day to Combat Desertification and Drought is being observed on June 17, 2019 with the theme "Let's grow the future together".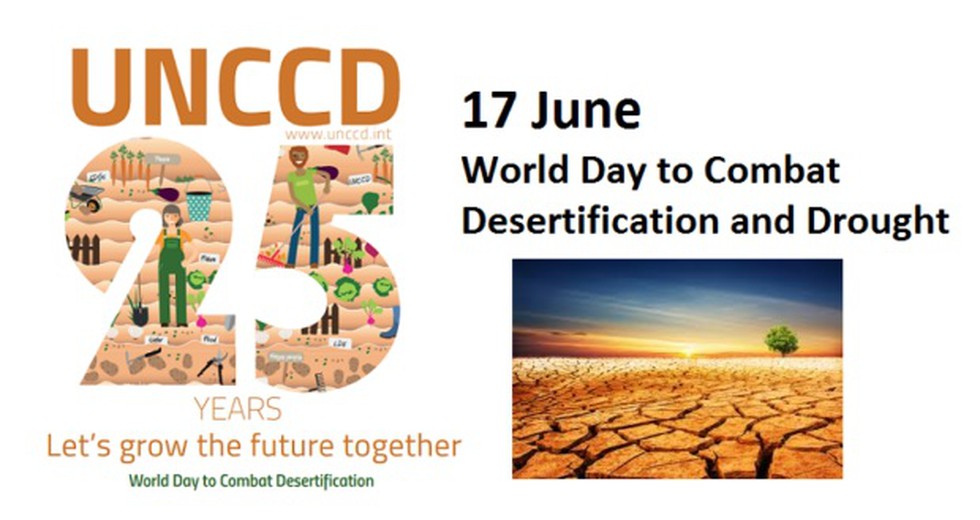 About:
Date of observance: The day is observed every year on June 17, 2019.
Objective of the day: To promote public awareness of international efforts to combat desertification.
Theme for this year: is Let's grow the future together.
This year, the United Nations Convention to Combat Desertification (UNCCD) celebrates the 25 years of progress made by countries on sustainable land management.
Important Info :
Desertification according to United Nations:
Meaning: Desertification is the degradation of land in arid, semi-arid and dry sub-humid areas. Desertification does not refer to the expansion of existing deserts.
Cause: It is caused primarily by human activities and climatic variations. It occurs because dryland ecosystems, which cover over one third of the world's land area, are extremely vulnerable to overexploitation and inappropriate land use.
Global scenario: According to United Nations, every year, the world loses 24 billion tons of fertile soil and dryland degradation reduces national domestic product in developing countries by up to 8 % annually.
Goal 15 of the 2030 Agenda for Sustainable Development states our resolve to halt and reverse land degradation.
One Liner Addon-
Pakistan appointed Lieutenant General Faiz Hameed as new chief of the Inter-Services Intelligence (ISI) spy agency.
Virender Kumar MP from Tikamgarh MP took oath as Pro-tem speaker of 17th LokSabha
17th June of every year is observed as World Day to Combat Desertification.
---